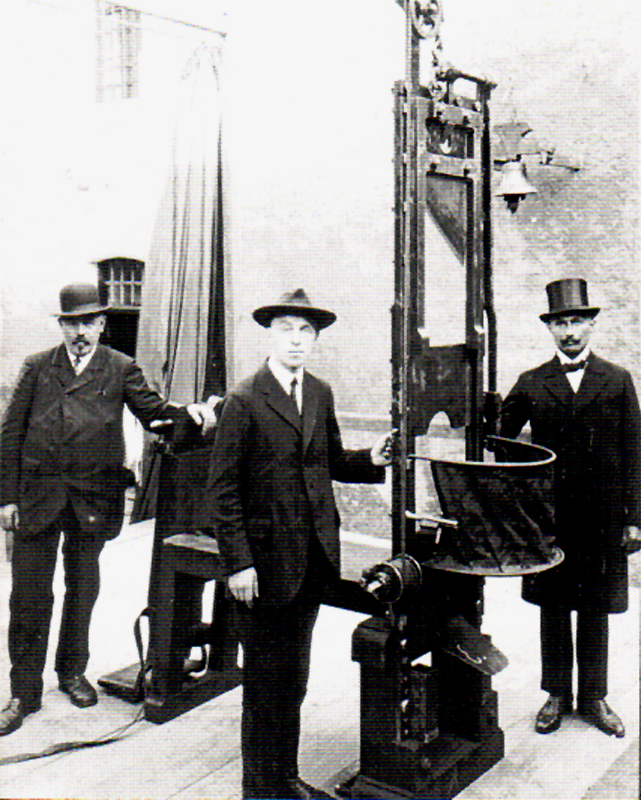 A second photo taken the same day, shows the fallbeil at a different angle, giving a clear view of the fabric "tub", the square shock absorber tubes and the blood "gutter" protruding under the lower lunette. This gutter connected to a hole at the front of the table and directed the blood to the scaffold floor in front of the machine where a pile of sawdust or sand was placed to capture the spillage.
Above the executioner's head there is a small bell attached to the prison wall. The "Armesuendersglocke",or Poor Sinner's Bell, was an integral part of the execution ceremony, and was rung continuously during the execution. A black curtain visible on the left side of the photo was also a symbolic part of the ceremonial, which remained religious in nature until 1940. The black veil remained even after that time in the Nazi execution rooms.
Johann went on to become quite infamous for executing about 3,000 people, most of them political opponents of the Nazi regime, including members of the "White Rose" anti-nazi movement. After the Allied victory, he continued his grim trade for the other side by hanging Nazi War Criminals at the Landsberg prison.
This actual fallbeil was reported destroyed at the end of WWII but it recently resurfaced in a Bavarian museum. One of identical design, from the prison of Würzburg, was transferred to Breslau in 1937. It was captured by the Soviets at the end of WWII and is currently exhibited at the War Museum in Kiev.